Narita, Japan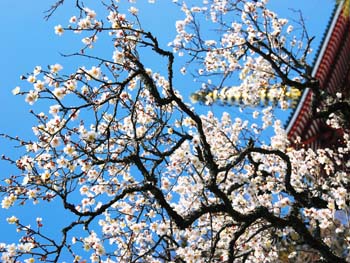 Narita City is a picturesque town with a country feeling famous for the Narita-san or Shinsho-ji temple and the gateway to Japan, the Narita International Airport. Every visitor to Japan should consider staying 1-2 nights in Narita! The hotels are much cheaper than Tokyo and you can actually experience more of the unique Japanese culture in a country setting rather than a big city. In addition, it is less fatiguing to stay in Narita on your first or last night in Japan.
After clearing Immigration Control & Customs at the airport, it may be wise to use the ATMs operated by Citibank, Japan Post or Seven Bank to obtain some Japanese yen before venturing out since it can be difficult to find an international ATM within Narita City. Local Japanese bank ATMs other than those listed above do not accept foreign cards, and a withdrawal fee may apply.
Narita Temple
Narita Temple can be reached by bus, hotel shuttle bus or train (either JR or Keisei) to Narita City Station: there are stops at Terminals 1 & 2, and a separate station for Narita City. This train ride will take approximately fifteen minutes each way, and the cost is approximately ¥250. From Narita City Station, passengers can walk around the central part of Narita City and visit many small souvenir shops and the large Narita-san buddhist temple, also known as the Shinsho-ji temple. It will take approximately twenty minutes to walk to the temple from the station. The street to the temple, known as "Green Street" or "Omotesando Street", is lined with stores selling food, drink and souvenirs.
2 websites offer English language train information in real-time
Narita City Train Schedule Information from Jorudan
Narita City Train Schedule Information from Hyperdia
A tea ceremony is held between 10:30 and 12:00 at the Narita Tourist Pavilion, located near the Narita-san Temple.
Narita Tourist Pavilion
At: 383-1 Nakamachi, Narita 286-0023
Open: 9:00-17:00 October to May, 10:00-18:00 June to September. Closed on Mondays.
Tel: 0476 24 3232
Here's a useful map to the temple and other attractions
Aeon Shopping Mall
Aeon Shopping Mall is a modern shopping mall with souvenir shops, modern clothes, Japanese cultural shops and a food hall. To reach the Aeon Mall, you can take a taxi or the Narita City Round Bus (only seven trips per day). A taxi will cost approximately ¥2500 each way and take around twenty minutes or you can take your free hotel shuttle bus.
There is a popular Daiso store on the front side of the mall. Daiso is a shop where almost everything costs ¥105. It is frequented by tourists and local residents alike.
Aeon Mall
At: 24 Uingutsuchiya, Narita 286 0029
Open: Most shops are open between 10:00 and 21:00
Shisui Premium Outlet Mall
Shisui Mall, located 10 Km from Narita Airport, contains many international and Japanese brands as well as a large food hall. A bus service runs from Narita Airport to the outlet mall.
Narita Aviation Museum
Narita Museum of Aeronautical Sciences is located just outside the boundary of Narita International Airport. It is most easily reached by taxi, and the fare should be approximately ¥1000-1500 each way. A limited bus service runs from Narita Airport.
Museum of Aeronautical Sciences (in Japanese)
At: 111-3 Iwayama, Shibayama-machi, Sanbu-gun 289-1608
Tel: 04 7978 0557
Open: 10:00 – 17:00 Tuesday to Sunday
Tours of Narita
Tours of attractions in the Narita area can be arranged with tour companies, or with taxi companies that offer a tour service.
The Narita Airport website lists details of fixed fare and standard taxis.
Further Information
| | |
| --- | --- |
| Country | Japan |
| Languages spoken | Japanese |
| Currency used | Japanese Yen (JPY) |